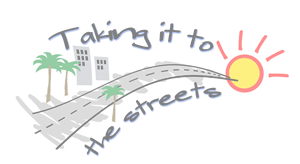 Taking it to the Streets:
Teaching youth to actively experience their community
A fun way to involve youth in learning important life skills

Strengthens parent-youth relationships

Increases the level of competency for independent life skills as a youth moves out on their own
A life changing, street cruising adventure!
This program is designed for youth ages 15 – 19. Done in the context of a parent-youth relationship, parents can help their teen prepare for life in a loving, nurturing, and enjoyable way.
So many of our teens that have had a rough start to life lack the skills they need to launch out into the world on their own and succeed. Taking it to the Streets is a creative way for parents to guide their youth to responsibility.
In this 26-module course, parents and youth spend one afternoon or day each week on an outing, ending with lunch or coffee and time to ask and answer questions and complete a worksheet.
Module activities include:
Transportation                     ⋅ Insurance Company
Employment Agency          ⋅ Car Mechanic
Thrift Store                           ⋅ Library
Laundromat                         ⋅ College Campus
Clothing Store                      ⋅ Cell Phone Store
Shoe Store                            ⋅ Planned Parenthood
Real Estate Office                ⋅ Parenting Class
Landlord/Housing                ⋅ Home Depot
Home Furnishings                ⋅ Homeless Shelter
Banking                                 ⋅ Grocery Shopping
Appliance Store                    ⋅ Eyeglass Store
Teen Centre                           ⋅ Furniture Store
Used Car Lot                         ⋅ YMCA
Once a week a module will be released with instructions, activity plan, and worksheets for the upcoming week. At the end of each week, youth may submit their worksheets via email. 
The course format can be fitted and tailored to your specific needs; you can do one module per week, or combine a few at a time. We also offer 27 additional modules that are available upon request. 
Price: $500.00(CAD) for all 26 modules; includes a one-hour Kick-Off Consultation and one 30-minute Q&A session via video call, email welcome package, all instructions, activities, and worksheets, twice-weekly emails, and unlimited email support and Q&A.
Dates: Begin when you're ready! We suggest you clear one day a week from your schedule for the next 16 – 26 weeks to get the most out of this program.
Format: Module activities are done as a parent-youth outing, live and in person to strengthen your relationship.
Are you ready to help launch your youth and prepare them to succeed in life?